Two weeks ago, I was watching the playback of the Google I/O 2015 event, that's where I first got wind of Android One and Google's plan to bring cheap but high quality Android devices to developing nations. Today, Google announced the launch of the Android One for Nigeria!
What does this mean for the average Nigerian? You might ask; simply put, now we know a cheap ass Android phone that we can buy with confidence. Why? Because its backed by Google's own Android One!
What is Android One?
[themeone_quote color="#6d6d6d"]
Android One is a Google programme where it is partnering with phone companies to create "high-quality" but low-cost Android smartphone. The programme was announced in June by Pichai and India is the first country where the company is launching Android One phones. According to Google, Android One programme is its attempt to create affordable smartphones so that billions of people who still use a feature phone can buy a smartphone.
– Source: India Today
[/themeone_quote]
Whats phone has the Android One OS?
Not so surprisingly, Google decided to go with Infinix as its first official device running Android One in Nigeria. The Infinix Hot 2 has pretty compelling specs for the price its currently going at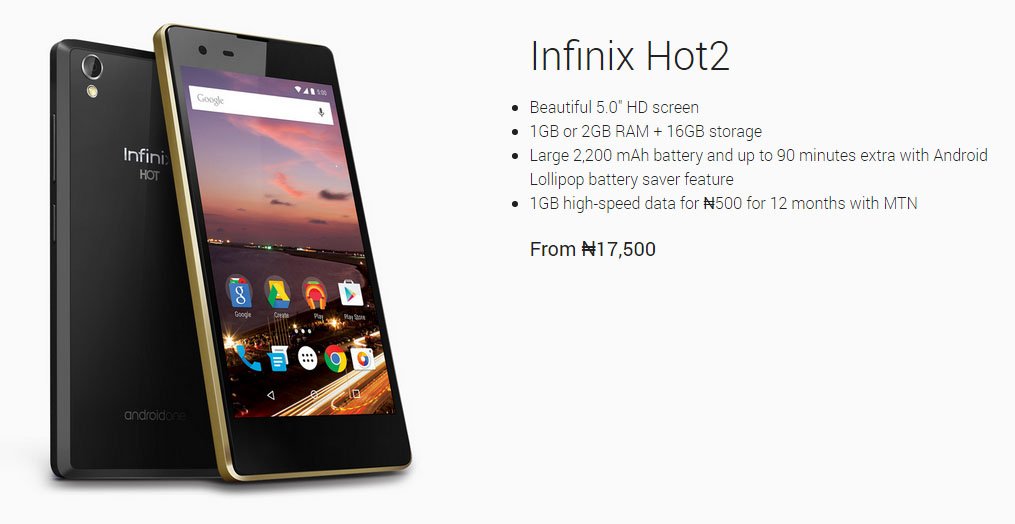 Where to get the Android One?
Right now, Jumia is the official retailer for Google's Android One enabled Infinix Hot 2. As at the time of writing this post, the devices were all sold out on Jumia, just a few hours after the announcement by Google! Not so surprising though, considering the phone's price mark
In Conclusion
My excitement today isn't really about the availability of an Android One powered phone, although I might get one for myself just for the fun of it, its the fact that the movement has got to Nigeria! The fact that everyday people can now do more with powerful Android platforms designed to help drive productivity… I really do love Google 🙂
Nigerians will be seeing more Android One enabled devices in the next few months as had been done in other markets, so if you don't like this Infinix model, chill a bit, there's more to come